ESE Direct are delighted to bring you their new voucher code, which celebrates National Bike Week by offering a free 'Sheffield Bicycle Stand' with any purchase of any Cycle Shelter. Just enter the code FREEBIKERACK14 at the checkout to make the most of this fantastic offer whilst it lasts. Below we bring you a selection of ESE Directs Cycle Shelter's to help you find the perfect one for your place of work. The full range can be found by clicking here.
New Voucher Code
Code – FREEBIKERACK14
Promotion –  Free 'Sheffield Bike Stand' for 2 bikes when you buy any cycle shelter (Link – http://www.esedirect.co.uk/s-4-bike-storage-solutions.aspx )
Expires – 30-06-2014
Cycle Shelters
Promotions:
Stratford Cycle Shelters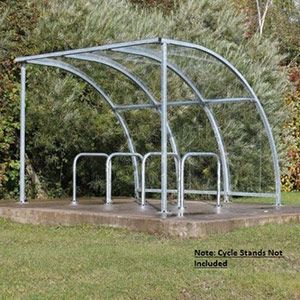 Classic bike racks can be a fantastic low cost investment, when space is limited. Though, those with more room should consider the benefits of a cycle shelter such as our Stratford galvanised cycle shelters. More businesses are now encouraging their employees to use greener forms of transportation, the use of bicycles is becoming more popular each year so it is essential employees have somewhere to securely store their bikes.

Our Price from £625.58 (ex.VAT)
Traditional Cycle Shelter – 3060mm Wide, 1900mm Deep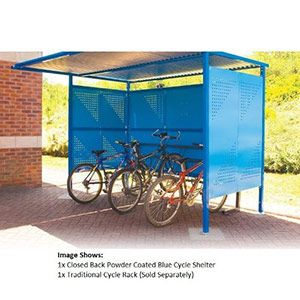 Whilst bike racks and stands can be a cost effective solution when there is a limited amount of space available our surface mounting traditional cycle shelters provide a sheltered, weatherproof outdoors location for cyclists to keep their bikes safe and secure during the working days whilst only take up a little more room.
Our Price from £1,056.30(ex.VAT)
Starter Wall Mounted Cycle Shelter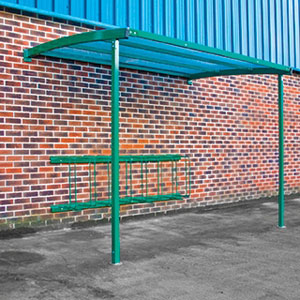 Make the most of the space available with these wall mounted cycle shelters. This cost effective shelter is suitable for mounting to most walls (including brick and stone) and comes complete with a twin-level wall mounting bike rack capable of storing up to 8 bikes. This twin-level rack is able to take most tyre widths including mountain bike tyres.
Our Price from £922.87(ex.VAT)
Centred Tintagel cycle shelter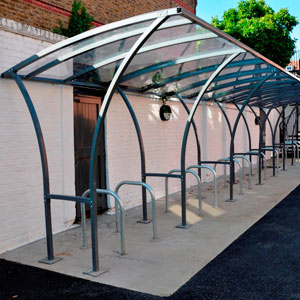 These zinc coated Tintagel cycle shelters are perfect for use in a wide range of environments from schools, to commercial applications and public areas, the frames are coated with a zinc coating to help prevent corrosion for a robust, all weather shelter. With a horizontal bar at each end, each pair of legs can double up as an additional parking space for cyclists to chain up their bikes.
Our Price from £1,053.50 (ex.VAT)
Galvanised Bicycle Shelter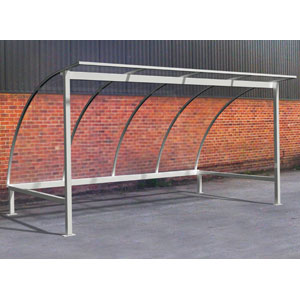 Provide shelter from the elements for employees' bikes and help to tidy up the appearance of public areas with this stylish galvanised bicycle shelter. Bikes can be stored safely and securely within this shelter, which provides a stylish answer to external bicycle parking.
Our Price from £1,741.87(ex.VAT)
Bike Storage Racks – Rail Mounted
Rail mounted bicycle storage racks, choose from single or double sided BS EN ISO1461 compliant (British Standard for the treatment of iron and steel) racks ideal for use in public areas, commercial parking areas and much more.
Our Price £50.89 (ex.VAT)
Premier Walkways / Shelters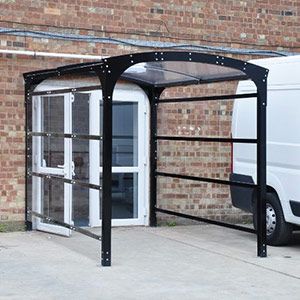 Ensure employees, visitors and valuable goods remain dry as they move from building to building. These stylish walkways can double up as cycle shelters, pram / buggy shelters and outdoor waiting areas, the steel frame and all metal parts are powder coated to provide a more durable walkway by improving its resistance to numerous weather conditions.
Our Price from £1,284.21 (ex.VAT)
Bike Storage Racks – Rail Mount with Alternate Ramps
As the number of cyclists continues to rise it is essential that businesses & public places have enough secure locations for staff & visitors to safely store their bicycles. These rail mounted bicycle holders make use of a 'V' shaped holder that grips each bikes tyre without touching any other part of the bike.
Our Price from £54.81 (ex.VAT)